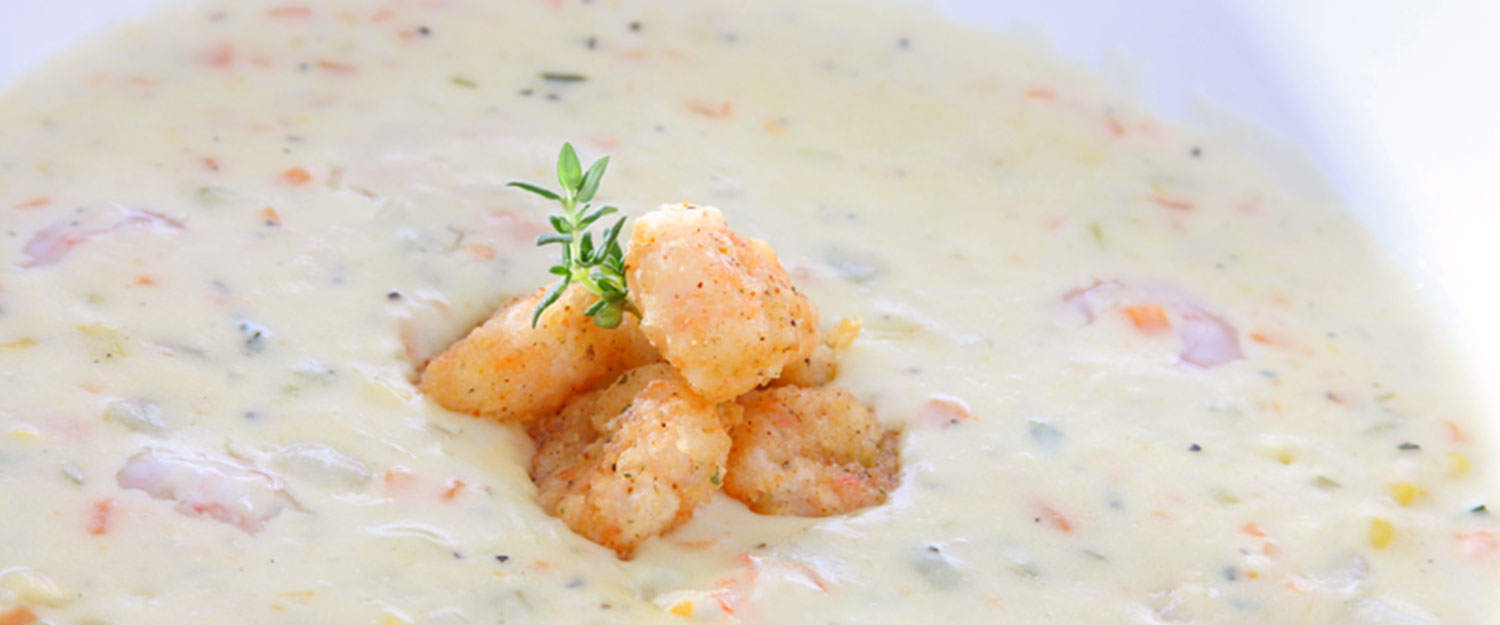 Ingredients
Shrimp and Corn Chowder
1 cup

90/120 Cooked Shrimp

30 each

90/120 Cooked Shrimp for garnish

4 cups

Vegetable or Fish Stock

2 cups

35% Cream

2 cups

Frozen Corn Kernels

2 cups

Peeled and Medium-Diced Potatoes

1 cup

Finely Diced Onions

2/3 cup

Peeled and Finely Diced Carrots

2/3 cup

Finely Diced Celery

1/3 cup

All Purpose Flour

2 tbsp

Canola Oil

2 tbsp

Minced Garlic

1 tbsp

Unsalted Butter

12 sprigs

Chopped Thyme (save 6 sprigs for garnish)

2 whole

Bay Leaves

to taste

Salt & Ground Pepper

to taste

Cayenne Pepper

to taste

Paprika

to taste

Dried Parsley
Method
Shrimp and Corn Chowder
Heat oil in pot and sweat garlic, onions, carrots and celery
until soft. Add potatoes, bay leaves and thyme sprigs.

Add stock and bring to a simmer. Cook until potatoes are
tender approximately 5 to 10 minutes.

Melt butter in the pot and whisk in 1-1 ½ tbsp flour to
create a roux. Slowly add some stock and whisk until it has
thickened.

Whisk the roux and chowder base and simmer until
thickened about 10 to 20 minutes.

Add the cream, frozen corn and shrimp and simmer until
heated through.

For Serving:
Ladle some broth with lots of shrimp and vegetables into each
bowl.

To Garnish:
combine the remaining 1/4 cup of flour, cayenne,
paprika, dried parsley. Coat each of the thirty shrimp. Pan-fry
until crisp; approximately 1 minute on each side. Place five
shrimp in the center of each bowl with a sprig of thyme

Serve hot with a fresh biscuit.