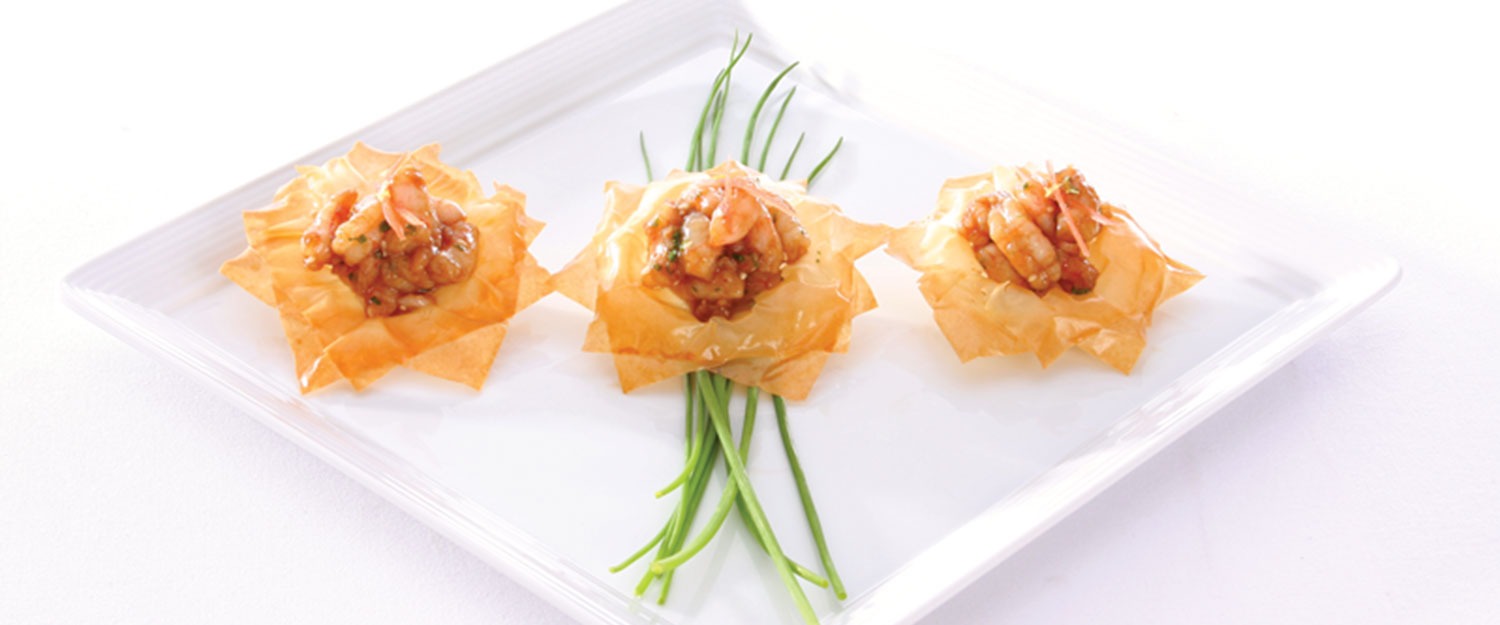 Ingredients
Sesame Shrimp
1 lb

Cooked Shrimp

½ cup

Sesame Oil

¼ cup

Soy Sauce

¼ cup

Sake or Rice Wine Vinegar

2 tbsp

Honey

1 tbsp

Sesame Seeds

2 tsp

Tabasco Sauce

1 tsp

Minced Garlic

1 tsp

Minced Ginger

1 tsp

Dijon Mustard

½ bunch

Fresh Chives, finely sliced
Shrimp Butter Cup
8 sheets

Phyllo Dough

½ cup

Clarified Butter or Melted Butter

¼ cup

Cooked Shrimp
Method
Sesame Shrimp
Blend the soy sauce, sake, garlic, ginger, honey, Tabasco and Dijon mustard in a blender. In a slow stream, add the sesame seed oil - allow the mixture to emulsify.

Remove the mixture from the blender, place on the stovetop and simmer for approximately 3 to 5 minutes.

Add the sesame seeds, shrimp and chives.

Serve warm or chilled.
Shrimp Butter Cup
Preheat the oven to 375 degrees Fahrenheit.

Prepare a damp cloth for the phyllo dough (Note: the damp cloth will prevent air from drying out the dough).

In a blender, combine 1 tbsp of the cooked shrimp and the hot butter. Blend the ingredients together until a thin paste has been achieved. Keep the mixture warm - this will ensure the ease of spreading.

Remove one sheet of the phyllo at a time. Use a knife and cut 3" by 3" squares out of the dough. For each cup you will require three squares. With the first square, brush on the shrimp butter, place another piece over the square turning by 90 degrees (the corners should be opposite), brush with the butter. Continue with the last square; when all three squares are glued together, place in a small muffin tray that has been sprayed with a cooking spray and ensure that the edges are over the corner of the cups in the tray. Do this with each of the cups.

Bake the cups at 375 degrees Fahrenheit for approximately 5 minutes, or until golden brown.

Fill the cups with the shrimp mixture and garnish with finely chopped chives.